As a starting point for the development of KickMagic pneumatic starters, our team focused on Triumph oil-in-frame (OIF) 650 & 750cc motorcycles manufactured from 1971 to 1979.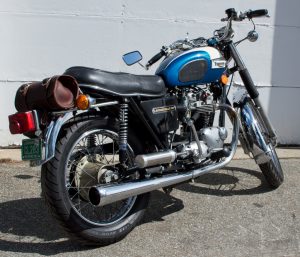 These specific model kits will be available in June, 2018, followed by kits for the 650's from 1963 to 1970 available in September 2018.
Other Triumph and non-Triumph applications will be developed based upon market demand.
PLEASE NOTE:
For 2018, KickMagic is limiting production to 50 units to ensure a smooth transition from sales to production, delivery, and robust customer support. You may place a deposit on a unit prior to production in June to guarantee being among the first fifty.
Onboard air systems are available immediately. Each of the three tanks – 50, 68 and 90 cubic inches – includes a high pressure regulator permanently attached. One low pressure regulator (LPR) is required in addition which includes a quick disconnect female fitting. These components have unique specifications for KickMagic. DO NOT use standard paintball tanks and regulators as you will damage the KickMagic system and warranty will be void. See OWNER's MANUAL for more information.
The 50 and 68 cu in tanks will fit in the KickMagic custom satchel or a saddlebag of your choice. The 90 cu in tank, as it is quite large, must be stored in a saddle bag of your choice only.