KickMagic systems are available for Triumph 650 and 750s from 1963 to 1979.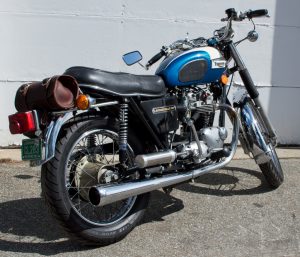 Four kits are available for the following models & years. There is very high commonality between the kits as all of the differences relate to mounting of the key components.
1975-79 750cc Oil in Frame / Left Hand Shift.
1971-1974 650/750cc Oil in Frame / Right Hand Shift
1968-1970 650cc Pre-OIF / Tool Tray in Side Cover
1963 – 1967 650cc Pre-OIF / No Tool Tray in Side Cover
Please note that 1966 and earlier Triumphs were 6 Vdc systems and will need to be upgraded to 12Vdc for KickMagic to work. Call tech support if you are unsure how to do this. It is a typical upgrade for these machines.
Models currently not available due to unique handlebar mounting issues.
Other Triumph and non-Triumph applications will be developed based upon market demand. Please see the Non Triumph Applications and Installations page for more information.
Onboard air systems are available in three tank sizes – 50, 68 and 90 cubic inches – and include a high pressure regulator permanently attached. One low pressure regulator (LPR) is required in addition which includes a quick disconnect female fitting. These components have unique specifications for KickMagic. DO NOT use standard paintball tanks and regulators as you will damage the KickMagic system and warranty will be void. See OWNER's MANUAL for more information.
The 50 cu in tanks will fit in the KickMagic custom satchel or a saddlebag of your choice. The 68 and 90 cu in tank must be stored in a saddle bag of your choice only.