One early summer evening in 2016, while slowly draining a cold beer, Nick Woodbury, one of the owners of The Classic Bike Experience (CBE) quipped, "You know? Nobody has found a good solution to the vintage Triumph starter challenge. We need to do that before we're done."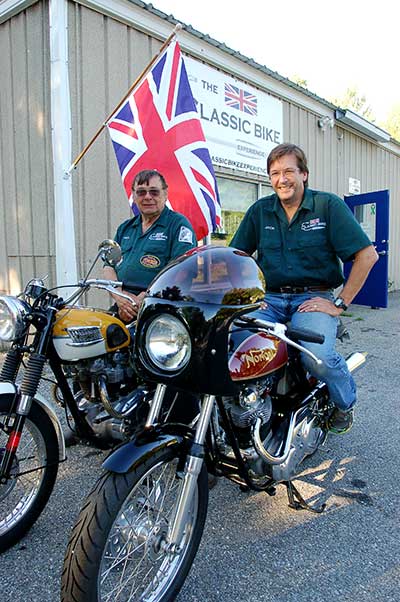 "Well, we better get on it," replied his partner Jack Manning. "We'll be dead before you know it."
And there it was. Game on!
Age has its benefits. With a combined 80+ years of aerospace engineering and manufacturing experience (think Lockheed Martin, GE Aerospace and General Dynamics, among others), Jack and Nick had a lot of retired techy friends with time on their hands and ideas in their heads. Many of their contacts also happened to be motorheads and bikers as well. Conversations led to sketches, led to some concept hardware and then "hey, this could really work!".
At the onset, KickMagic was seen as an augmentation and not a replacement for the kick starter on vintage bikes. Why? Because, that's what our customers told us they wanted. They liked their kick starter! The problem was it could be difficult for old or replaced knees and the threat of kickback (and the horror stories of Achilles tears, etc.) was actually an equal or greater concern.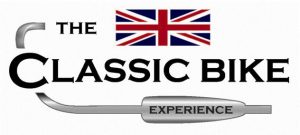 Tickling carbs, freeing the clutch, adjusting chokes and finding the high spot on compression – so a sure kick will bring the beast to life – is part of owning one of these classic motorcycles. Making the kick start easier (less force) and safer (protection against kickback) still allows for the full Classic Bike Experience!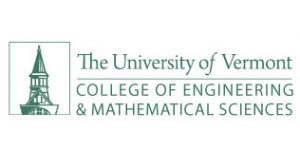 To get some fresh ideas, CBE teamed up with the University of Vermont's Senior Experience in Engineering Design (SEED) program for the 2017/18 academic year. CBE's knowledge of the vintage motorcycle market combined with the freethinking and energetic UVM team, generated multiple clean-sheet concepts before the KickMagic pneumatic system was selected as the most robust solution, meeting all of the oft times conflicting requirements. The following goals and objectives were gleaned from users and presented as part of their Preliminary Design Review (PDR) in October, 2017:
Reduce effort to start the bike by 75 +/- %,
Eliminate or reduce kick back threat,
Maintain the period aesthetics,
No permanent modifications to the stock machine,
Easily installed by a competent home mechanic with no special tools,
Retail under $2K,
Minimum 50 stored starts with the on board air supply,
Reliable and robust considering the application,
Quickly removable to return to full stock appearance.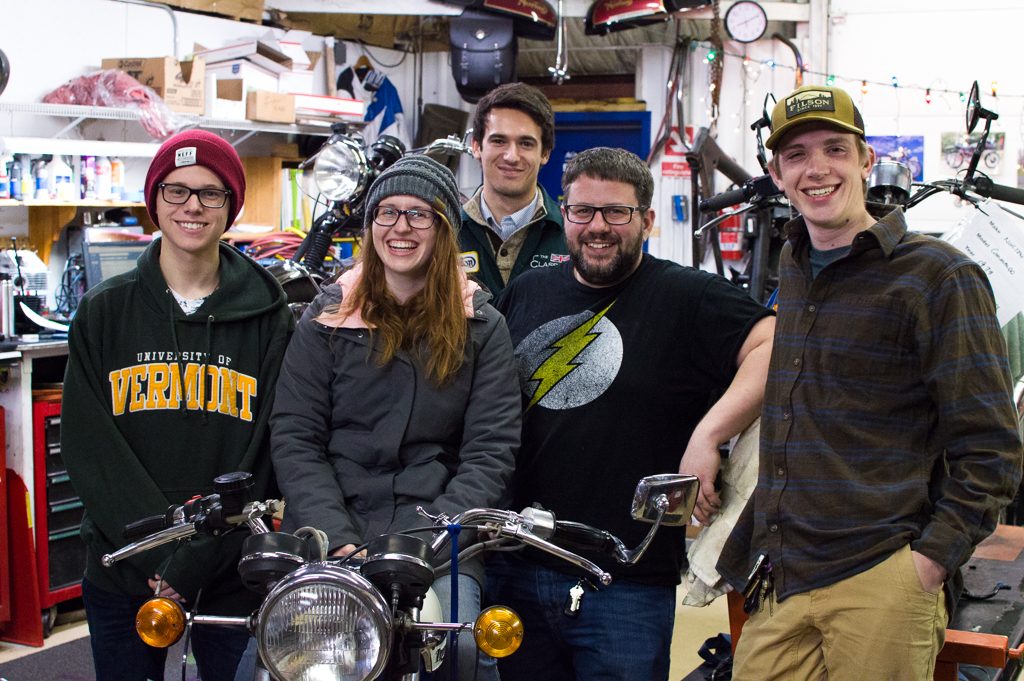 From there, a pneumatic assist prototype was created and on Thanksgiving Eve, 2017 Jack was able to successfully start his 1973 TR7 750 using just his hands.
Proof of concept – check !
The team then worked on system controls and the challenges of designing a robust system capable of being installed on stock machines without permanent modifications. In January 2018, an Engineering Test Unit (ETU) that fit entirely on the bike, allowed Jack's 67 lb., 10-year old nephew to start the machine. Kind of scared the crap out of him, but a HUGE grin erupted from him and us.
KickMagic = KidMagic – check !
Bill, a local middle school art teacher with a penchant for building way-cool vintage customs (and with an industrial design degree) spent time with the team highlighting how to blend components into the flow and mechanical theme of the Triumph motorcycle.
"Make it look like the factory could have offered it as an option," he explained …and, well, we listened. The most prominent components follow the themes of the bike. The dash mimics the three "idiot" lights on the headlight shell, the actuator follows the form factor of the muffler and the satchel looks the part of a period tool roll. Everything else is pretty much out of site.
KickMagic eventually came to rely on mainly commercial, off-the-shelf (COTS) components plus a few proprietary mechanical and control designs. As a system, it can be readily adapted to other, similar kick start machines. In February 2018, a provisional patent was submitted protecting the intellectual property of a newly formed Limited Liability Company, Kick Magic LLC.
While the market for starters is not exactly comparable to a new Apple iPhone, the numbers can get big quickly for a small company. Their long industrial experience taught Nick and Jack that having the right partners in manufacturing is a lot better than chasing vendors, piling up inventory and working late into the night to assemble and box up product to ship out the next morning. KickMagic was not going to be manufactured out of someone's garage, but done in a professional manner.

Enter Pearse-Bertram, a contract manufacturer and industrial controls distributor, ideally suited for our order fulfillment. Located in Bloomfield, Connecticut, Pearse-Bertram is an ISO 9001 company with a reputation for quality and delivery. Further, they have been with us every step of the way in concurrent engineering, making sure we specified components suited for the performance requirements, application and environment.
Orders and tech support will be done by KickMagic, but Pearse-Bertram will be the "person behind the curtain" making sure your system is built correctly and shipped on time. Pearse-Bertram also provides much better lead times given its status in the industry and their supplier relationships. Again, this is not a garage shop begging for parts from some Fortune 500 supplier, this is an industry player doing business as usual, but for your benefit.
So, that's our story – and solution – to Nick's Triumph starter challenge.
Enjoy!