KickMagic Triumph Pneumatic Starter Kit for 1963-1970 650's
KM T650-6370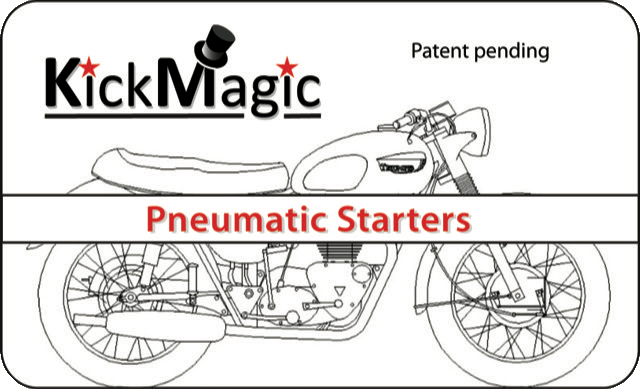 SEPTEMBER, 2018 delivery...
This kit is designed for 1963-1970 Triumph 650 motorcycles with right- or left-hand shift. The system comes partially pre assembled for ease of installation and includes:
Dash assembly with integrated cable and connector,
Starter control unit (SCU) with mounting plate,
Proximity sensor with integrated cable and connector,
Solenoid assembly with integrated cable/connector and pneumatic fittings & lines,
SCU connector cable assembly,
Combination shaft with leaf chain and clevis, including two new kick start shaft bolts,
Pneumatic actuator with mounting plate and fasteners,
Chain guard,
Miscellaneous fasteners,
User manual (with companion online video) and KickMagic one-year warranty registration,
KickMagic pint glass for use after installation
The above system is compatible for immediate use with shop air.
On-board air supply options are based upon the size of storage tank selected and whether you will be placing it within your own saddle compartment, tool bag or a KickMagic custom satchel.
Please select from the following for a complete on-board air supply:
50, 68 or 90 cu inch air tank, which is fitted with a KickMagic specified high flow regulator. These are produced by Ninja, a leading US manufacturer of paintball/airsoft products, and come with their own Ninja warranty.
Low Pressure Regulator (also manufactured by Ninja) with a safety quick disconnect coupling.This coupling allows venting of the downstream line before full disconnect.
50 or 68 cu in KickMagic Leather Satchel (optional). The satchel is specifically designed for theses air tanks and regulators. No satchel is available for the 90 cu in tank as it is too large to mount behind the seat and should be placed in a saddle bag of your choice.