Nick was a Triumph guy, having cut his teeth down the street at Frank's Motorcycle Shop back in the 60's setting up new bikes, mostly Triumphs.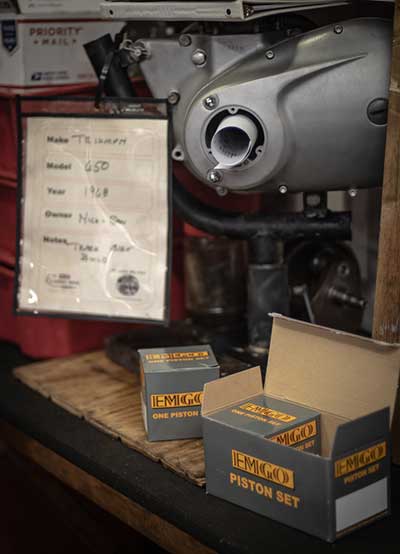 One project that Nick Woodbury started and that we plan to finish, is a Gary Nixon-themed track bike. We have most of the bits, fairings, wheels, etc. and hope to have it done for at least one track day later in the year. The project is being led by Peter Booth, an accomplished USCRA rider as part of Team Skippy Racing. Their primary race bike is a highly modified T500 Suzuki, so we can't wait to have Peter bombing around the track on a push-rod vertical twin. Given the Japanese legacy of Peter's rides (Honda before the Suzuki), we decided to coin the project the Nick-San bike 🙂
We also have a current charity bike, a '74 Norton that Guild member "Sag" is leading. Like the "ALS bike" before it, we will build it to a running, rolling chassis, then sell it to a new owner who can finish it to whatever spec they'd like. Part of the proceeds are then donated to a suitable charity and the rest is returned to the next charity bike fund.
If you would like to support either of these projects, feel free to stop by.
Footnote: Gary Nixon was an American professional motorcycle racer who most notably won the A.M.A. Grand National Championship in 1967 and 1968 as a member of the Triumph factory racing team. He was also the winner of the 1967 Daytona 200 motorcycle race on a 500cc Triumph Daytona.