I am saddened to report that Nick Woodbury, a founder and co-owner of Classic Bike Experience (CBE), passed away on January 29, 2020.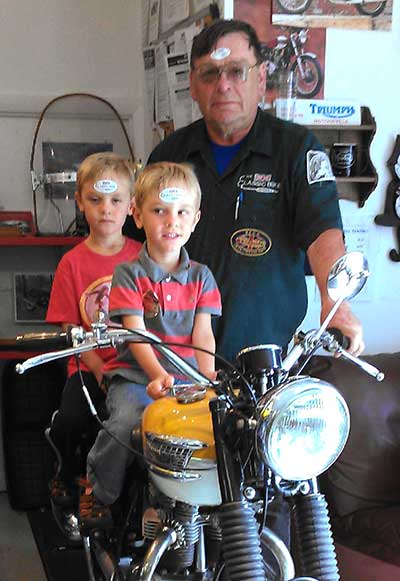 I had known Nick Woodbury for close to 35 years, dating back to our days at then GE Aerospace (later Lockheed Martin and then General Dynamics). His career as an advanced manufacturing engineer spanned the careers of many, many young engineers who learned that 50% of design meant thinking about how you are going to make the damn thing. If you were willing to learn, he had all the patience in the world and those smart enough to realize that, learned a lot. He was forever curious on a wide range of subjects, not just technical. He loved to read and was a Renaissance man with dirty fingernails.
His great joy was our shop and especially the people (and bikes) it attracted. Nick's voice was the one most people heard when they called the shop. Advice was free and plentiful, but stopped short of BS. If he didn't know something or was offering an opinion and not fact, you knew it. No fake news with Nick. "You can't fool physics," was one of his recurring themes.
A few years back, we had the opportunity to blend all those "professional" aerospace years with our mutual love of vintage British motorcycles (especially Triumphs… Nick was a Triumph guy) and a desire to share that knowledge with emerging young engineers. The KickMagic Pneumatic Starter was developed in conjunction with a senior engineering project team at the University of Vermont. Nick really loved that experience.
Join us once the COVID quarantine lifts, for the 1st Annual "Wandering Woodburys Ride"
The Woodbury family and friends had a quiet gathering the weekend after his death, but asked if we would sponsor a "Nick Ride" on his birthday, April 26 (a Sunday this year). He always strove to have his first ride of the year on his birthday. Notably, Nick was also a hot-rodder and often repeated his favorite line, "If I had all the money back that I'd spent on cars and bikes… I'd spend it on cars and bikes!"
At some TBD date, we plan to launch the first annual "Wandering Woodburys Ride" a spring breakout event including motorcycles, hot-rods, and friends–anyone on a motorized vehicle who wishes to join us in this commemorative event. We'll gather at 2 PM, roll out at 3 PM, food, music, and general BS from 4 to 6 PM. Thanks to Guild Member Mike L'Esperance who coined the name at a recent Wrench Night …has a nice ring to it don't cha think?
Banning the elephant in the room…
Nick died from complications due to lymphoma which was diagnosed in January, 2019. Living with cancer is like living with an elephant in the room. But at the shop, he asked the elephant to wait outside during the hours he was there. However, each day started with his cup of tea and 10 minutes on how he was feeling and any accommodations we would need to make. One thing he talked about was how to take advantage of anything positive that we could derive from his experience.
Consider a donation to Leukemia & Lymphoma Society (LLS) in Nick's honor
I had talked to Nick about his thoughts on fund-raising for various organizations (the shop had done the ALS bike as a charity effort last year) and he figured that, "…we might as well have something positive come out of this crap." My own family is close to a young man who is a junior at our local high school. His uncle has been ill from blood-related diseases and Robbie decided to to something positive.
"I got involved with LLS because my uncle, Joel, was diagnosed with acute myeloid leukemia," says Robbie. "When my mom told me about the Student of the Year campaign I felt like I had to participate in order to help other families going through this crisis just like mine. Last year, I raised around $5,000 in the Vermont Chapter, and this year I'm at around $2,800 in the Upstate New York Chapter."
We will carry on at the shop and the Guild. Thanks to all who have come forward to lend a hand, offer condolences, or just keep the vibe going. While Nick is missed dearly, his fingerprints are all over the place, his special tools and fixtures continue to make working on these bikes a joy and his trove of written procedures and tech tips mix engineering and his dry Vermont wit – always fun to read.
Hope to see you around the shop sometime soon and especially on the last Sunday in April.
Jack & the CBE gang